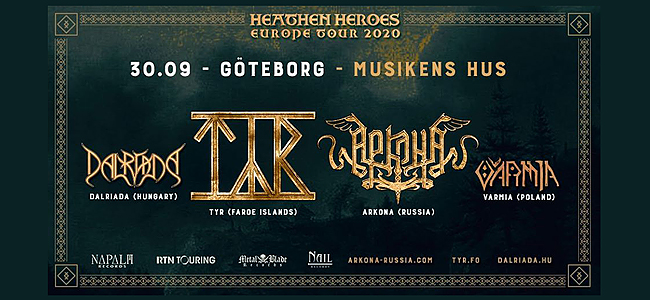 Onsdag 29 September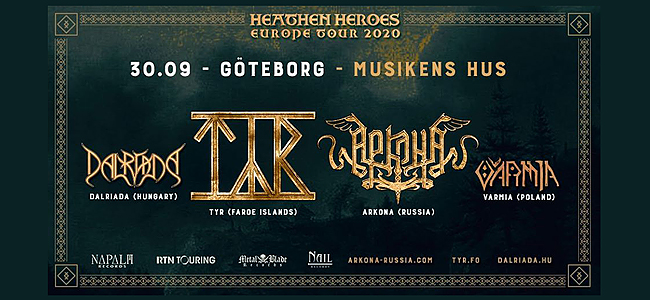 RTN Touring, Metal Blade, Napalm Records, Nail Records presents
Heathen Heroes tour 2020 with double headliners:
TÝR (Faroe Islands)
https://www.facebook.com/tyrband/
ARKONA (Russia)
https://www.facebook.com/arkonarussia/
special guest:
Dalriada (Hungary)
https://www.facebook.com/Dalriadahu/
supported by:
Varmia (Poland)
https://www.facebook.com/varmiaband/
Faroese Týr and Russian Arkona have announced a double headliner Heathen Heroes tour across Europe in the fall of 2020. The tour will run all the way from the eastern part or Europe, through the Baltics and the whole of Scandinavia, to the western shores. It will also be featuring a special guest, Hungarian folk-metal heroes Dalriada, and further supported by black metal Varmia from Poland and vikings Varang Nord from Latvia on selected dates.
Týr's most recent album "Hel" was released in March 2019, and it was followed by a very successful "Tour From Hel" to promote the album in mainland Europe, North America and Russia. The album has been very well received by the audience and press.
Arkona, led by mighty Masha Scream, will be back on the road, being in the middle of the recording of their 9th album. After the release of "Khram" in 2018 the band played worldwide and this tour will mark the end of the Khram era. Apart from that, It will be Arkona's first ever extended tour of Scandinavia.
Both bands will play a mixture of old Pagan classics and Heavy Hitters from the recent albums, so prepare for a night to remember!
Special guest Dalriada from Hungary will be join as well, presenting a new album (Őszelő), release is scheduled for the end of August.
The opening position will be shared between the 2019 Wacken Metal Battle winner, Latvian Folk Viking Metal band, Varang Nord, and the Polish Root Metal band, Varmia.
Entré: 325 kr (ink avgift vid förköp)
Förköp: På nätet Tickster
Förköp: Kontor Pusterviksbiljetter vid Järntorget
Vi öppnar kl. 18.00
Åldersgräns 18 år
På stora scenen
Ingång Djurgårdsgatan 13
Meny & bar.