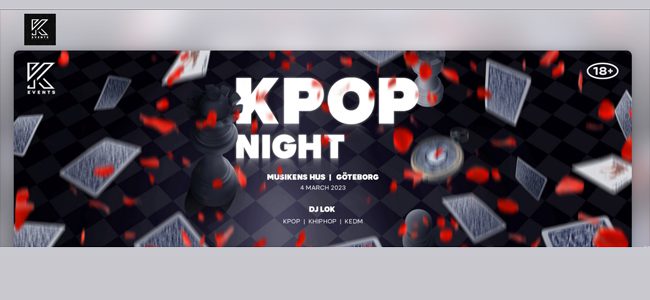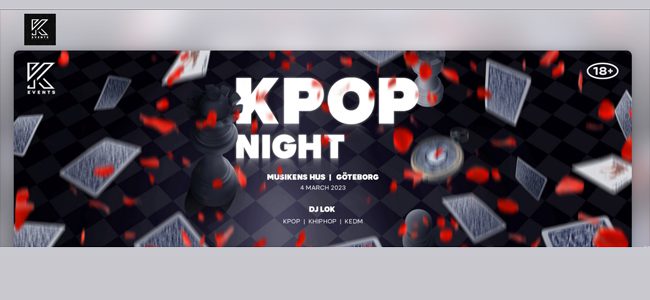 OfficialKevents | KPOP & KHIPHOP Night in Göteborg
---
OfficialKEvents is the largest KPop and KHiphop Clubbing Events organiser in the world. Our London & Paris club nights bring in over 2000+ attendees monthly, hosting in 25+ countries. We now bring you an unforgettable night in Göteborg!
OfficialKEvents DJs will be playing KPop, KHiphop & K-EDM tracks throughout the night, until 2 AM!
Get ready to dance the night away to your favourite songs.
OfficialKEvents Making Events Everlasting!
---
🎧 OfficialKEvents DJs 🎧
DJ LOK [LDN/UK] @Lok.kevents
---
✨18+ Event, guests MUST bring ID, no Photocopies, no refund (Unless cancelled or postponed). You will automatically be entered into our email, SMS & WhatsApp list by purchasing a ticket.
✨Last Entry 12am ✨1 Floors of music ✨ party from 9pm – 2am✨
---
Mer information: https://www.tickettailor.com/events/kevents/836655#
Lördag 04 Mars
Stora scenen
Vi öppnar kl. 21.00
Vi stänger 02.00
Entré:
First Phase tickets 🕘: Sek 135
Second Phase tickets 🕘: Sek 165
Third Phase tickets 🕘: Sek 195
Door Price : Sek 300
Åldersgräns 18 år
På stora scenen
Ingång Djurgårdsgatan 13
Meny & bar.