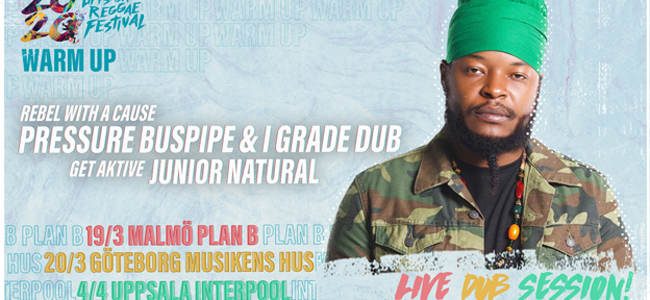 Fredag 20 Mars
Inställt. Finest Live Dub Inna Session!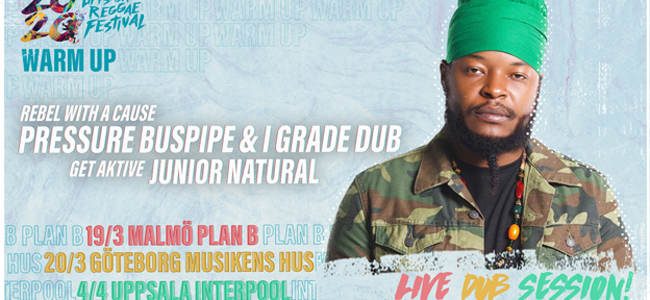 ---
Pressure Busspipe, the Virgin Islands reggae ambassador who has been on the international reggae scene since his breakout #1 single "Love and Affection", has teamed up with I Grade Records for a groundbreaking new album called "Rebel With a Cause".
---
With Tippy's live dub sound system, I Grade Dub, they have launched an inspiring format for roots reggae presentation – one that fuses the traditional live mixing pioneered by ones like Scientist and Mad Professor, with a cutting-edge digital dub rig that enables Pressure to present his full catalog of sounds with the excitement and originality of heavyweight (((dub))).
---
Junior Natural:  In October 2019 Zion High Productions new release, GET AKTIVE, pairs Junior Natural with the Zion I Kings players in a 10 tracks vocal & dub showcase. The opening song, "Get Aktive", sets the tone for the album and admonishes the listener to get busy with living and not to waste time hesitating. "Moving On" follows with a lilting keyboard riff that rings like an acoustic xylophone. In his lyrics, Junior Natural looks to brighter days ahead while today "leaders still a fight us as if we appear too free". "Still Watching" features additional vocals from V.I. powerhouse Pressure Busspipe.
Entré: 190 kr (ink avgift vid förköp)
Förköp: På nätet Tickster
Förköp: Kontor Pusterviksbiljetter vid Järntorget
Vi öppnar kl. 21.00
Åldersgräns 18 år
På stora scenen
Ingång Djurgårdsgatan 13
Meny & bar.