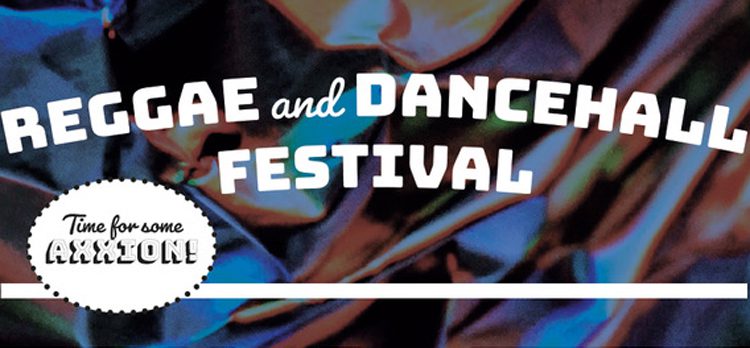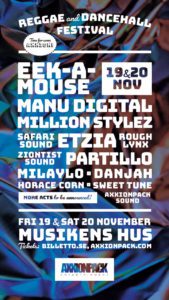 AXXIONPACK'S REGGAE & DANCEHALL FESTIVAL LÖRDAG
TIME FOR SOME AXXION! FRI 19 NOV & SAT 20 NOV AT MUSIKENS HUS – TWO DAYS FILLED WITH JAMAICAN VIBES!
Axxionpack Entertainment is back with a blast and a massive festival friday 19 nov & saturday 20 nov!
From the doors open 20.00 til we close 02.00 there will be a lot of axxion – 100% entertainment for your money guaranteed!
Line Up:
Eek-A-Mouse.
Horace Corn.
Partillo.
Safari Sound.
Sweet Tune.
Axxionpack Sound.
If you listen to reggae music you probably know who Eek-A-Mouse is, if you don't know: even better – then you must come and experience Eek-A-Mouse and his music!
The legendary singer who buss in the 80's with his unique singay style is gonna perform live on stage this saturday!
Eek-A-Mouse has dropped reggae anthems that will live forever like Ganja Smuggling & Wa Do Dem and this saturday he will be backed by Sweet Tune and perform a real soundsystem style live-show!
---
Horace Corn – the jamaican singer who has been a part of the reggae scene for years and recently dropped the single "Getting You" produced by Partillo will be on stage and warmup the crowd before Eek-A-Mouse!
---
Safari Sound – The sound that has been putting Sweden on the map the last years with numerous of soundclashes, touring all over the world, producing music thru their label Safari Records, hosting radio shows and much more, will be at the festival this saturday night. The reggae and dancehall specialists DJ Shirkhan & DJ Autograph aka Safari Sound is gonna nice up the place!
---
Partillo – The hardest working man when it comes to reggae in Sweden, is gonna bless the festival with an exclusive DJ-set. Earlier this year Partillo released the double album "Högre Standard vol 3 & 4". Who knows what happen when Partillo is at the controls..Don't miss out! In other words, nuff entertainment this saturday: don't miss out!
---
2 day ticket – friday 19 nov & saturday 20 nov: 595KR
1 day ticket – friday 19 nov – 295KR
1 day ticket – saturday 20 nov – 350KR
Tickets will be released monday 27 sept 12.00 at www.billetto.se
---
Important info: Musikens Hus capacity is only 350 people.
Because of the limited capacity there is a limited amount of tickets available. We STRONGLY recommend presale tickets if you wanna experience this festival. It's gonna be an exclusive festival for only 350 people each night!
Tickets at the door: we only gonna sell tickets at the door if we don't sell out the presale tickets.
Axxionpack Entertainment reserve that changes regarding the festivals line up of artists might occur.
---
Eek-A-Mouse: https://open.spotify.com/artist/6xqlgBccdlxUh5DeJSx2ho…
Axxionpack: https://open.spotify.com/artist/2ykvyKDDQtarW88PccoTAY…
Partillo: https://open.spotify.com/artist/1JaDm3lcNujg75Mq1mtE0u…
Horace Corn: https://open.spotify.com/track/7dzxjwBKRS8FJWQklA0r3f…
Safari Sound: https://soundcloud.com/safarisound
Rough Lynx: https://soundcloud.com/rough-lynx-sound
Lördag 20 November
Stora scenen
Vi öppnar kl. 20.00
Starta kvällen tidigare i huset med en god middag eller en öl. Vår mysiga restaurang "Hängmattan" är öppen onsd-sönd från kl 16.00 + fred-lörd från kl 17.00
Entré: Se info i presntationstext
Åldersgräns 18 år
På stora scenen
Ingång Djurgårdsgatan 13
Meny & bar.
Biljett kan även köpas på Pusterviksbiljetter / Järntorget
Arrangemanget sker i samarbete med ABF Göteborg