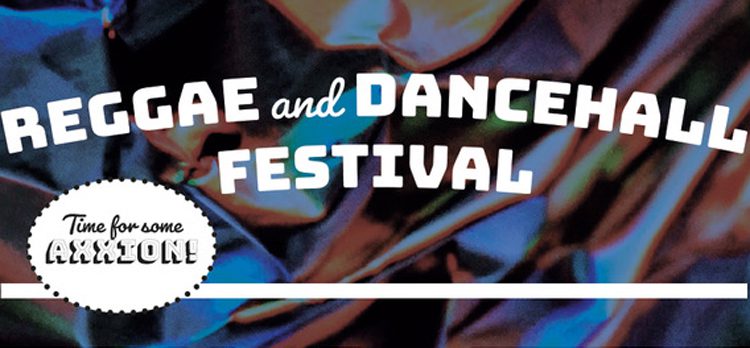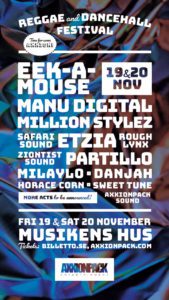 AXXIONPACK'S REGGAE & DANCEHALL FESTIVAL FREDAG
TIME FOR SOME AXXION! FRI 19 NOV & SAT 20 NOV AT MUSIKENS HUS – TWO DAYS FILLED WITH JAMAICAN VIBES!
Axxionpack Entertainment is back with a blast and a massive festival friday 19 nov & saturday 20 nov!
From the doors open 20.00 til we close 02.00 there will be a lot of axxion – 100% entertainment for your money guaranteed!
Line Up:
Manu Digital showcase feat. Million Stylez, Etzia & Danjah.
Milaylo.
Ziontist Sound.
Rough Lynx Sound.
Axxionpack Sound.
This friday the hottest producer right now specialized in digital reggae
– Manu Digital – will do an exclusive showcase show feat. swedish dancehall & reggae stars Million Stylez, Etzia & Danjah: it will be an epic show you can't miss! Musical director for the showcase: Harmonics Group.
---
One of Swedens most promising new artists – Milaylo – will be on stage as well this friday. Axxionpack Records produced Milaylo's debut single "Nuff A Dem" last year and Milaylo got some new tunes in stock: boom!
---
Ziontist Sound who's been mashin' up the mixtape world nonstop droping madd mixtapes with crazy reggae-mashup's of everything from Cornelius Vreeswijk, Viktor Leksell and Amy Winehouse to Vybz Kartel & Bounty Killa. Ziontist Sound will mash it up for sure this night!
Gothenburg reggae & dancehall veterans Rough Lynx Sound will be in the area and play the best of jamaican music spiced up with some exclusive dubplates: boom bang!
---
Axxionpack Sound aka Fedda & Axxel will be in area as well – this year Axxionpack turns 21 years which means 21 years dedication to jamaican music!
2 day ticket – friday 19 nov & saturday 20 nov: 595KR
1 day ticket – friday 19 nov – 295KR
1 day ticket – saturday 20 nov – 350KR
Tickets will be released monday 27 sept 12.00 at www.billetto.se
---
Important info: Musikens Hus capacity is only 350 people.
Because of the limited capacity there is a limited amount of tickets available. We STRONGLY recommend presale tickets if you wanna experience this festival. It's gonna be an exclusive festival for only 350 people each night!
Tickets at the door: we only gonna sell tickets at the door if we don't sell out the presale tickets.
Axxionpack Entertainment reserve that changes regarding the festivals line up of artists might occur.
---
Fredag 19 November
Stora scenen
Vi öppnar kl. 20.00
Starta kvällen tidigare i huset med en god middag eller en öl. Vår mysiga restaurang "Hängmattan" är öppen onsd-sönd från kl 16.00 + fred-lörd från kl 17.00
Entré: Se info i presentationstext
Åldersgräns 18 år
På stora scenen
Ingång Djurgårdsgatan 13
Meny & bar.
Biljett kan även köpas på Pusterviksbiljetter / Järntorget
Arrangemanget sker i samarbete med ABF Göteborg